Blog
BKOM Green
July 20, 2020
Since the beginning of 2020, we have prioritized the foundations of sustainable development within internal and external activities at BKOM Studios in order to become an agent of change. We have been taking concrete actions to reduce our ecological footprint and make a difference.
Our plan, spread over one year, aims to:
Reduce the ecological footprint of BKOM Studios in its internal and external activities

Adopt and promote eco-responsible consumption and thus reduce the amount of waste produced

Employee engagement

Residual materials

Responsible sourcing

Community involvement

Greenhouse gas
With the confinement of the last few months, some steps have been put on hold, others have been put in place on their own due to the circumstances, but despite everything, there's something positive coming out of it, and globally too.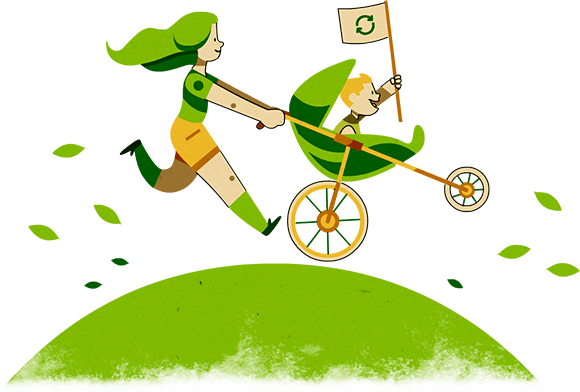 NATURE IS HAPPY
Nature benefits from this more than deserved break brought with the COVID crisis. Many believe that isolation measures are good for the environment and even if we still lack hindsight, we're already seeing that pollution has decreased considerably in recent months.
In China, the air has improved significantly and some people have even seen the blue of the sky for the first time in their lives.

In Italy, the waters of Venice have become clearer.

Thousands of endangered sea turtles in India peacefully lay millions of eggs.
Some see things returning to normal soon, but the moment that we live in now SHOULD make us think. Humanity has exerted enormous pressure on the natural world for too long and the effects are being felt. Never forget that taking care of the planet means taking care of ourselves.
The current crisis demonstrates that man is capable of making sacrifices for a good cause. Let's take this opportunity to make "green" resolutions, let's seize the opportunity for change!
TRANSFORM WASTE INTO OPPORTUNITIES
The accumulation of waste is a major environmental problem and, fortunately for us, some researchers are determined to transform our garbage into resources. Their big challenge is to reduce the quantity of waste rejected indefinitely. Among the "green" genius ideas found on the net, three concepts are targeting more specifically the residues resulting from human overconsumption, thus grabbing the attention of BKOM:
Replace concrete with recycled plastic

Biking from coffee capsules

Making building materials from old clothes
These solutions cover all the products that are found in too large a quantity in the dumpsites (the latter should moreover reach their full capacity within 10 years). Numbers ? Just in Quebec, that's 190,000 tons of clothes thrown away each year. Worldwide, 8 million tons of plastic are dumped into the sea each year.
We'll not hide it, our habits as consumers are difficult to change and the production of waste resulting from it is enormous. It's much better to recycle to make new things! And even if we don't all agree with the warnings of scientists, we can agree that the production of waste is a huge problem. A guided tour of our dumpsites may be the solution to convince our biggest skeptics!
Curious to learn more? – French only

WHAT GOES IN THE BIN?
Full nappies, old shoes, Christmas lights and expired medicines are some of the unusual objects found in sorting centers. We understand that although recycling is an increasingly "natural" practice, there's still a lot of awareness-raising work to do.
Not sure where to put what? Here are two questions to ask yourself before recycling:
Is it paper, cardboard, glass or metal?

Is it a container, packaging or a print?
When answering "NO" to any of these questions, the item should not go into the bin. What can you do then? Certain objects can be donated to an organization, brought to an eco-center or make their way into the trash.
In 2020, it's now time to respect your recycling bin and sort it out responsibly.

ZERO WASTE, EVEN ON HOLIDAYS
In summer, don't we love the scent of BBQ and freshly cut lawn? Or the flowers, the gardens and the birds that sing in the trees. It's the season of weddings and family vacations. Summer is beautiful, but it's also the return of disposable products in large quantities (disposable plates and glasses, napkins, etc.)!
When you think "green", one of the important and easy thing to do is to start by reducing the amount of waste we generate at the source.
Here are some tips to help you during the summer season:
Avoid disposable products, limit packaging and opt for reusable products (picnic, camping, by the pool at home)

Compost, because it's clearly easier in summer than winter and useful in the garden. You don't know how to do it ?

Craque-Bitume

offers lots of tips and tricks on their site (french site only). If you don't have a backyard, you can still compost (methods exist for people who only have a balcony) or check the possibilities with your municipality!

Buy in bulk for your picnics and avoid individual size snack packaging. There are now plenty of grocery stores in bulk, organic, fair trade, handmade … you can find a multitude of snacks!

Think of the second-hand economy for your leisure equipment for example. We only have a few weeks of summer in Quebec, there's no need to get new equipment for the beach!

Opt for cycling, walking or skateboarding to get around more ecologically
Remember that your waste has a life cycle and that even if you dispose of it, it continues to exist in nature. Every little bit counts.
This summer, don't opt ​​for the easy way and think about the impact of your actions on nature.
Have a good, green and sunny summer everyone!
---