News
BKOM studios innovates with the launch of a new mobile game IP
Quebec, November 19, 2019 — BKOM Studios unveils Overloot, a unique mobile game, conceived during the 2017 Pixel Challenge competition. This original property of the Quebec studio is now available on iOS or Android, and is offered in five different languages ​​and accessible in 155 countries through a partnership with WHAT (games), mobile games distributor of the French giant Gameloft.
It all started in 2017 when BKOM Studios won the Pixel Challenge competition, which consisted of making a game from A to Z in just 48 hours. In this race against the clock, the BKOM team laid the foundation for a highly addictive game that has evolved into the Overloot of today.
"We were amazed by the performance and results of our colleagues. So we chose to continue their work and complete their creation. The concept they developed went off the beaten track and we immediately believed in it. This is one of the reasons why WHAT (games) was interested," says Frédéric Martin, CEO and founder of BKOM Studios.
A NEVER SEEN CONCEPT
Overloot is a fast-paced puzzle game in which users must manage a limited inventory, combine various items and customize their hero to defeat fantastic creatures. The game is embellished with role-playing elements (RPGs) that distinguish it from other games of the genre. After each completed challenge, players progress and unlock various items (weapons and armor, for example) that allow them to triumph in the face of increasingly fierce monsters.
To their delight, enthusiasts of geek culture will be delighted to find many Easter eggs as they progress through Overloot.
"It's important for us to continue our growth by associating ourselves with stimulating projects on mobile as well as on consoles. This one makes us particularly proud because it is a totally original idea of ​​our employees," indicates Frédéric Martin.
Overloot is the third original production of BKOM Studios after Little Lords of Twilight, and Tales from Candlekeep: Tomb of Annihilation. The team's expertise also shines internationally thanks to the development of numerous large-scale projects for major clients such as Hasbro and Disney.
ABOUT BKOM STUDIOS
For more than 20 years, BKOM Studios has been developing cutting-edge interactive games and experiences for prestigious clients like Hasbro, Disney, Wizards of the Coast, Warner Bros and Bombardier. The company that creates quality jobs is growing year by year and relies on a tight-knit team of 90 dedicated employees in its offices in Quebec City and Montreal. The majority of these talents have been employed by BKOM for more than three years, a rare phenomenon in the gaming industry. Proof that the values ​​of cooperation that the studio advocates are echoed by the best.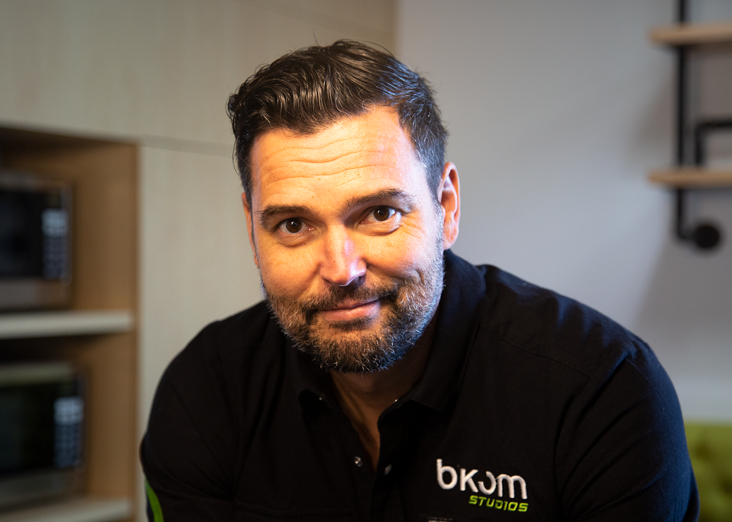 Frédéric Martin, President and founder of BKOM Studios