Blog
When Is the Next Global Success in the World of Toys?
July 16, 2018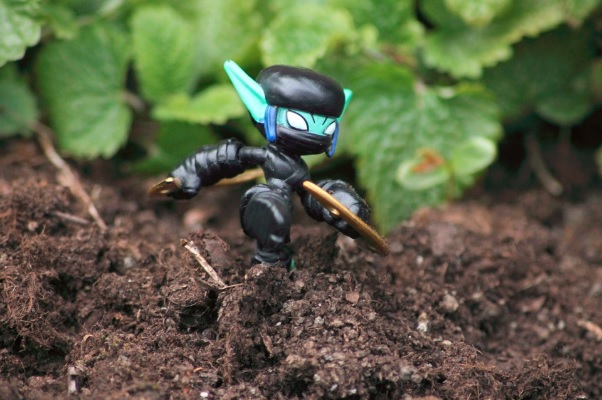 A Success Story: Skylanders
Skylanders is one of the most profitable franchises in the world of games. With over 30 million of toys sold, its success has been phenomenal.
Skylanders: Spyro's Adventure had a unique twist that shook the industry: by putting toys on a portal, players had access to additional characters in the game. This concept of a physical toy that could communicate with a video game was very ambitious. But as a result, it has ended up being extremely popular.
Since the Skylander phenomenon, the toy industry has been looking for the same Holy Grail. What will be the next connected toy that will find the same success?
Skylander led the way and since then other companies have decided to take the same path.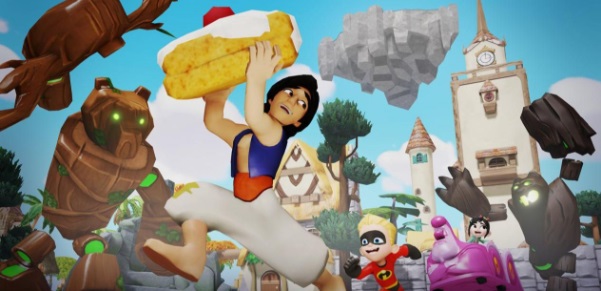 For example, Disney Infinity is a platforming and adventure video game with a virtual world associated with figurines. Its success was so incredible that Disney claimed that more Disney Infinity games were sold in 2014 than Skylanders games.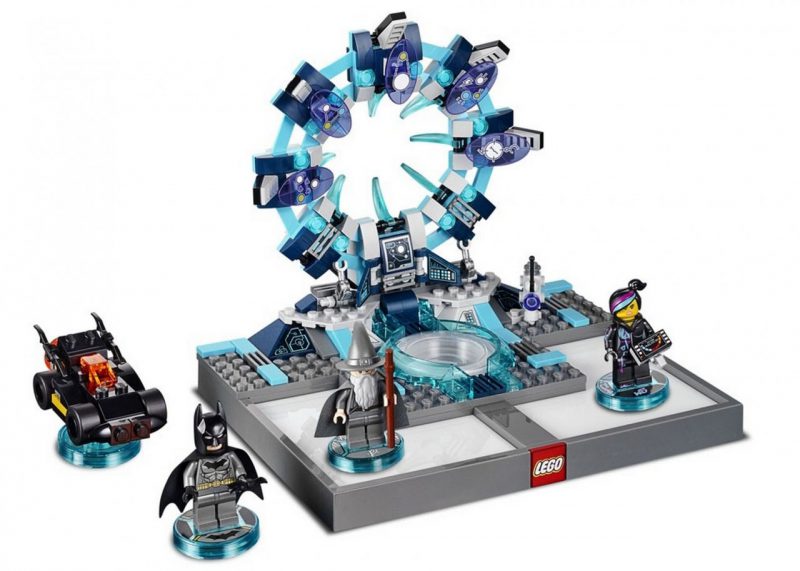 Another famous example would be Lego Dimensions, an action-adventure video game developed by Traveler's Tales and published by WB Games. The Lego Dimensions gaming system is similar to other Lego games we are familiar with. However, thanks to the use of a Toy Pad on which players must place figurines, vehicles, or other gadgets, they manage to come alive directly in the video game.
Each of these games is more innovative than one another, making way to a whole new reality.
A new reality
Nowadays, gaming consoles are increasingly surpassed by mobile gaming. Did you know that consumer spending on mobile games is more than double the amount spent on consoles and 25% higher than on PC/MAC?
Thanks to the advent of augmented reality, and virtual reality technologies, mobile gaming has never been more popular. We only have to look at the Pokémon Go phenomenon to see that.
This new reality suggests that mobile games now come before traditional toys. This directly impacts traditional toy manufacturers. With more technologies at their disposal, children's play habits have taken a mobile turn.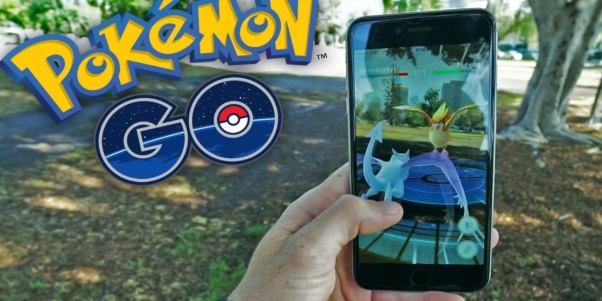 New Opportunities
Not only the craze towards mobile gaming offers new possibilities and opportunities for game developers, it also creates new challenges.
For example, how can toy manufacturers bring back the excitement of physical toys to young people latched onto their cell phones? They can't just rely on static figurines anymore. They must now offer young people a mixed experience: combine traditional toys with technologies that will succeed in expanding their imagination.
It's now possible to go beyond the simple connected toy experience thanks to augmented reality technologies. These can offer an increased experience with the support of an application.
In response to today's demand, the industry is moving toward what is called bidirectionality. This refers to the possibility of experiencing action-reaction between the device and the toy. With new technologies, the performance of mobile devices is much higher than before and the possibilities of interaction with the physical world keep increasing. For example thanks to better cameras, object detection in real time is almost perfect on the latest operating systems. Don't forget the possibilities offered by Bluetooth, such as the use of mobile devices with remote controls or robotic toys.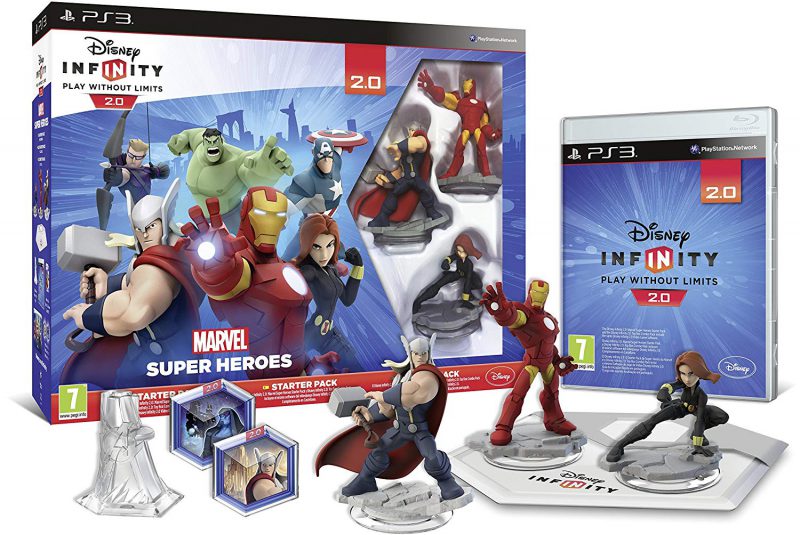 Next steps
Bidirectionality offers more than just additional content for toys. Unlike Skylander, where the toy served only as a "key" to activate digital content, bidirectionality also allows the game to alter or modify the physical toy according to the course of the digital game!
Could we say that the trend in static physical figures simply used as keys to unlock digital content is outdated? We believe the answer is a resounding yes! The market has definitely moved beyond that.
More and more game developers are also trying to go beyond simple remote controls. For example, a physical toy might react to what is happening in the game with movements, voices, sound effects, or lights. Furthermore, as the evolution of toys are now closely tied to the evolution of the digital space, it's also safe to assume we haven't seen anything yet.
Tabletop games also have immense untapped potential in the digital space. For example, the game "Mansion of Madness," published by Fantasy Flight Games, uses a "companion app" application which tracks the progress of its players. The application is able to dictate various events that occur throughout the exploration phase of players, the tracking of characters, enemies (life points, powers, effects they can inflict on the player, etc.). Different soundtracks also evolve throughout the mission. Although tabletop games do not directly incorporate technologies, companion apps certainly open the door to new opportunities with their interactive possibilities.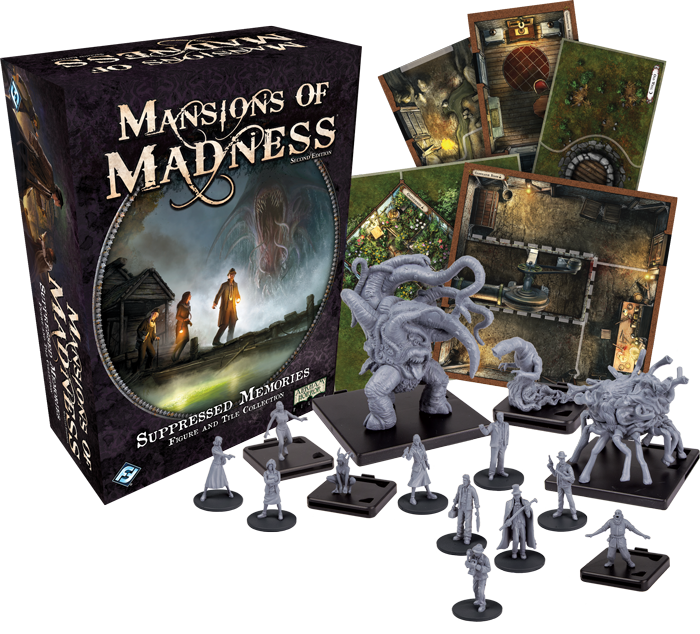 And BKOM Studios in all this?
At BKOM Studios, we ignite play by bridging the virtual and physical to create new levels of entertainment and new types of interaction.
Our engineers and designers bring life to new lines of toys or to existing ones by developing ecosystems that extend and multiply their play expressions. Our services in this area include:
Research and Development
Toys-2-Life prototyping & Design of Interactive Toys
Integration with Digital Ecosystems and Application Programming Interfaces ("API")
Augmented Reality (AR) Integration & Virtual Reality (VR)
Experienced Experience Design
Electronics, Circuitry, Chips, Cards
App Development T2L and Console Games
Our team changes the rules of the game by tearing down the walls that have stood between digital and physical, by bridging the gap between pixels and plastic, our team challenges and changes the rules of the game on a daily basis. Whether you want to create "The" next-gen board game, a plush doll that learns and talks back, a video game that is fueled by how active kids can be in real life or a superhero costume that allows you to move objects from a distance, you've landed on the right page!
Some of our creations
Robot BKOM (Prototype, Toy Fair 2016):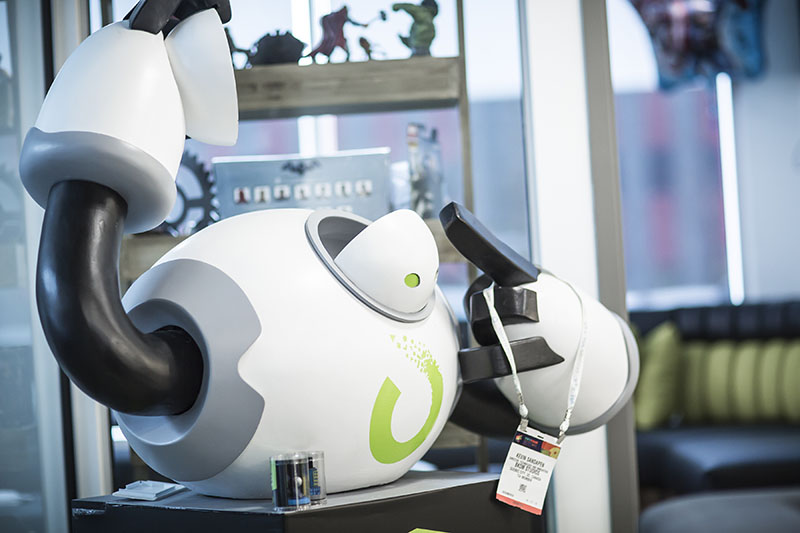 This robot detects special objects that are placed in his head. Once the object is recognized, it appears in the game, with other virtual objects from the other visitors of the kiosk, including elements of the scenery, weapons for the main character, and so on.
AR / VR Interactive Table Prototype (Toy Fair 2017):
This imposing table combines mixed reality technologies as well as tokens and RFID playing cards to create a unique gaming experience! Move your tokens on table and see your virtual characters move and fight each other. Use magic cards to cast spells at your opponent or heal your character. This prototype certainly attracts public attention whenever it is displayed!
BKOM Mixed Reality Castle Siege prototype (Toy Fair 2018):
Using a digital tablet, you can see a 3D virtual castle appear around a plastic tower on a surface. You can then use the tablet to shoot characters around the castle to destroy their walls, while archers try to defend the castle. By switching figure in a plastic barrel, the player can change characters in the game, according to his strategy.
In Conclusion
BKOM Studios' vision is to bridge the virtual and physical to create new levels of entertainment and new types of interaction. Thanks to our multidisciplinary expertise, we are uniquely qualified to help our customers cross the space between the physical and the digital to participate in this growing market.
---